00

Days

00

Hours

00

Minutes

00

Seconds
Reindeer Leather brings you Authentic genuine leather traditional made in Poland house slippers at a very affordable price and fast shipping guarantee to the USA and Europe. Now buy more and save more UPTO 25% discount on minimum purchase of four items.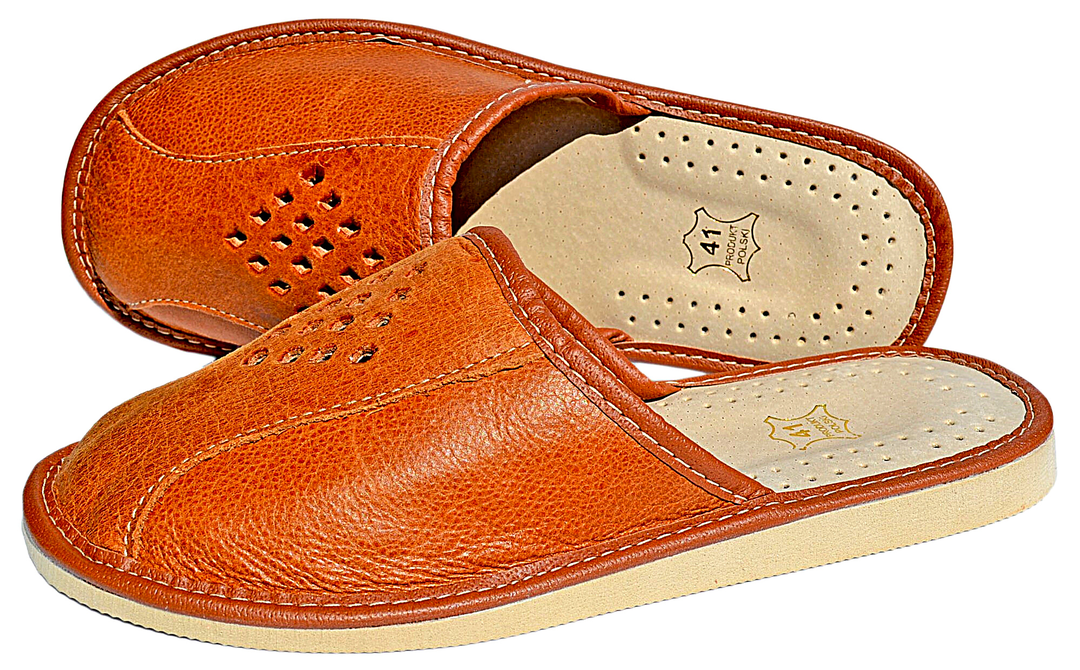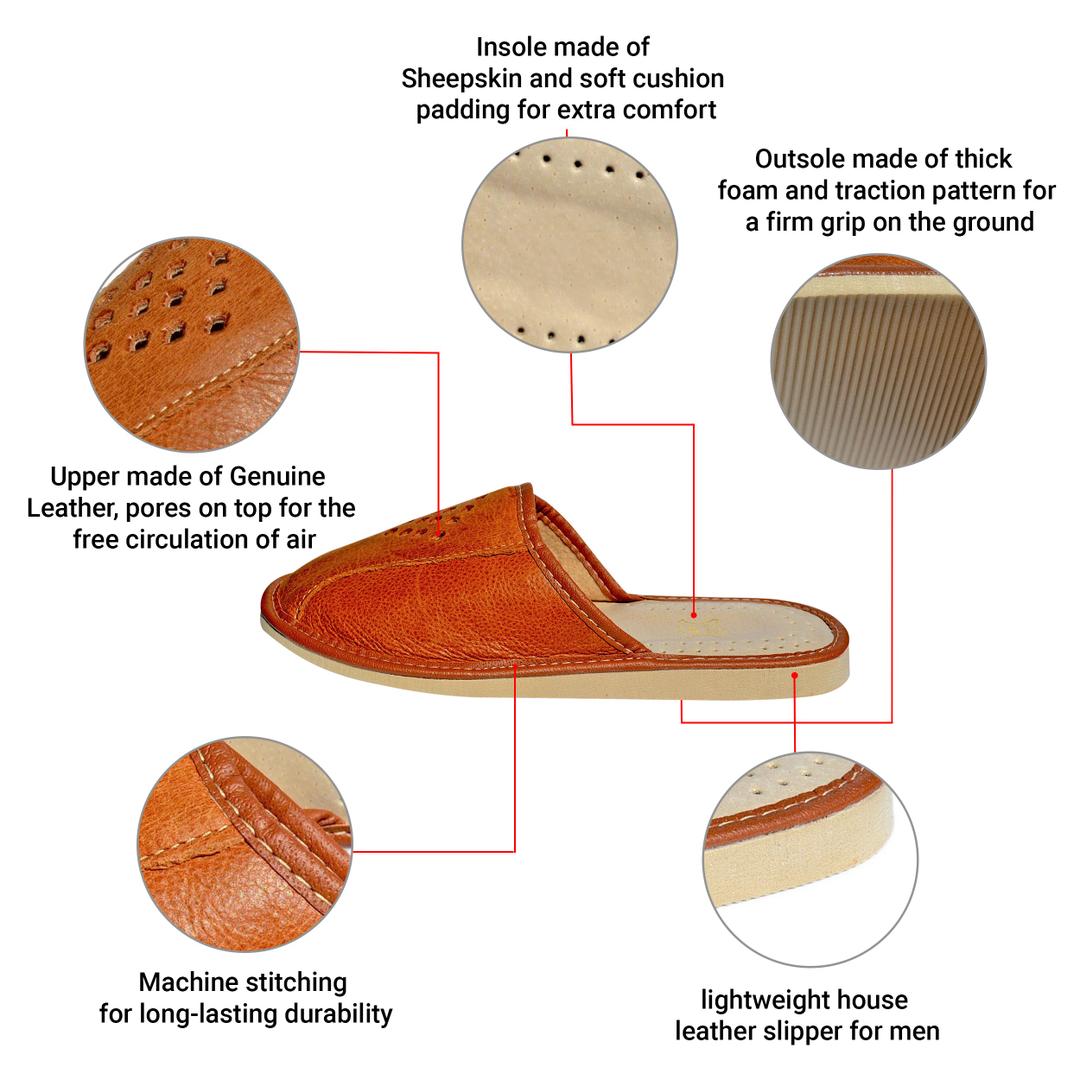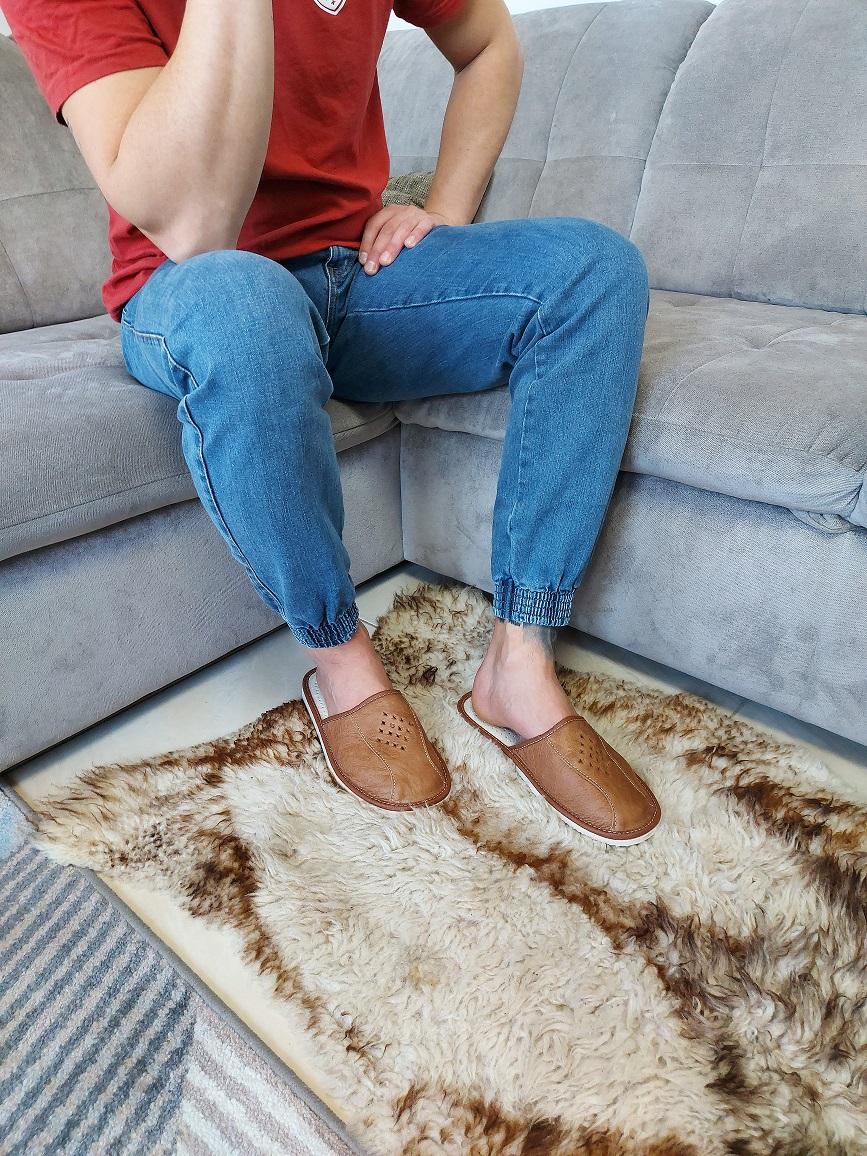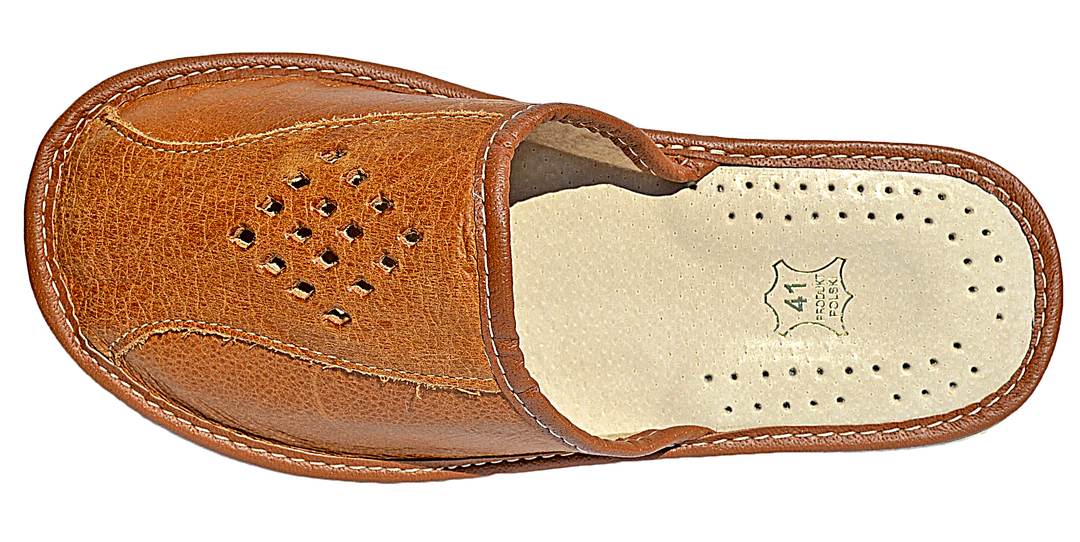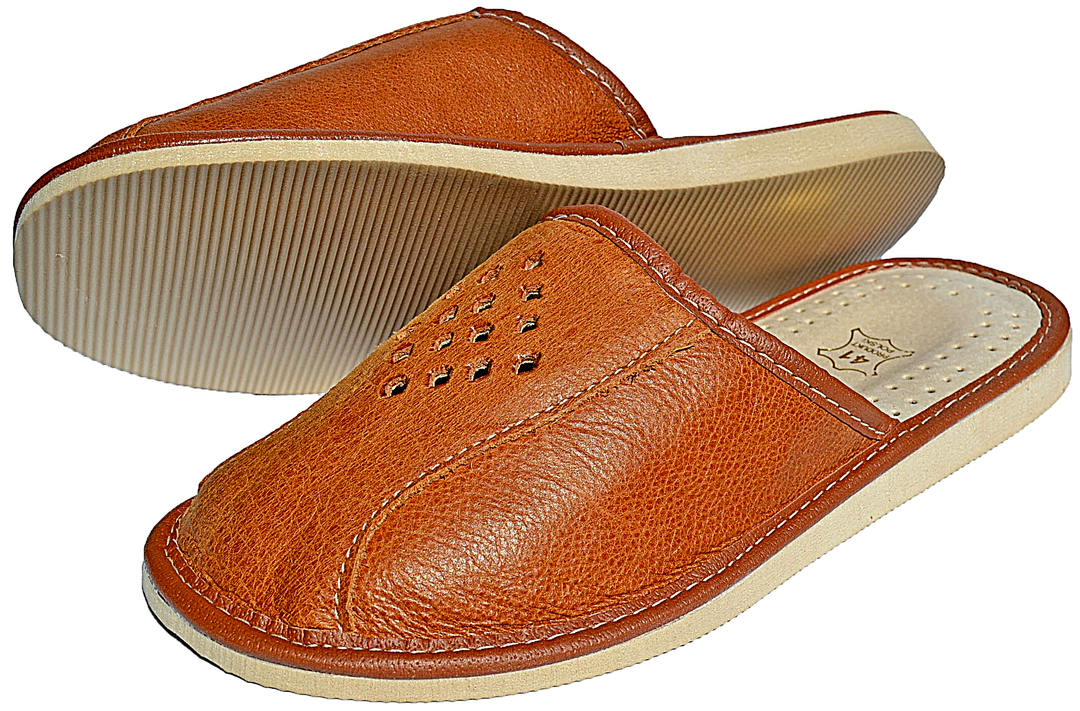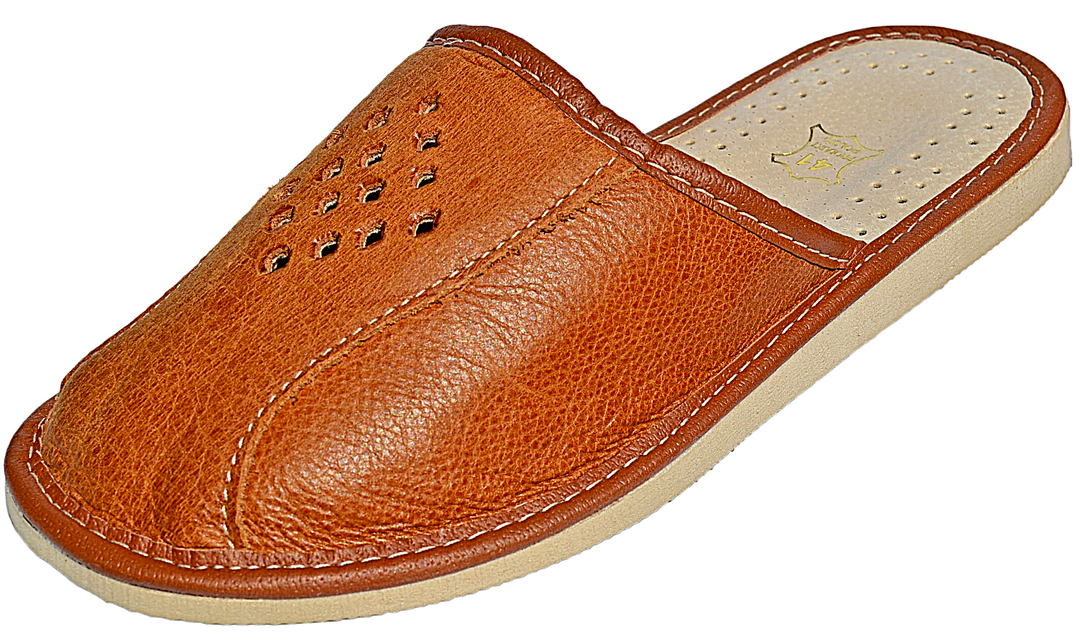 Hadley Soft Sheepskin Mens Leather bedroom Slippers
Soft full grain tan leather mens leather slippers Made in Poland.
Lightweight anti-skid rubber sole & sheepskin insole to keep your feet dry and sweatless. Perfect if you have sensitive skin.
Free shipping worldwide.
Hassle-free return and refund policy / 24X7 customer service.
Ideal for indoor and moderately outdoor use.
Choose Express Shipping for faster delivery!!
& Free shipping worldwide.
100% No-Risk Money Back Guarantee

Soft full grain tan leather mens leather slippers Made in Poland.
Lightweight anti-skid rubber sole & sheepskin insole to keep your feet dry and sweatless. Perfect if you have sensitive skin.
Free shipping worldwide.
Hassle-free return and refund policy / 24X7 customer service.
Ideal for indoor and moderately outdoor use.
Choose Express Shipping for faster delivery!!
Is this slippers perfect fit or little bigger?

All leather slippers have standard European sizes for medium or wider feet, however it's advisable to choose one size smaller than your normal size if your feet as these slippers are 0.5 cms bigger than normal size.


How much time it take for slippers to get delivered?

We ship all leather wallets, shoes, and slippers from Poland so it can take 18 to 28 working days for delivery to USA, Canada, Isreal, and Australia. 7 working days for delivery within Europe, and 35 to 45 days to the rest of the world. Please note delivery days can vary depending on various situations and circumstances.


How much is shipping cost ?

We offer free shipping worldwide on all over items on our website.


Do you use Reindeer Leather to make this slippers?

No we dont use Reindeer leather for any of our product. Reindeer Leather is our brand name it does not have to do anything with Reindeer Skin.


What is your return policy?

We are very flexible in our return policy as we believe in customer satisfaction. If for any reason you are not happy or satisfy with the product you receive just chat with us online or by email as and we will make sure to get the issue resolved as soon as possible.

Natural leather indoor house mens slippers wide width designed to keep your feet right temperature in winter or summer, easy to clean and wear, traditionally handcrafted in Poland these mens house leather slippers are what you need at work or stay relaxed at home, sheepskin leather insole lining absorbs moisture and to make feet dry if you have sweaty feet problem.
GENUINE LEATHER-

Made of genuine, thick, naturally tanned leather. Inner fabric lining prevents skin irritation and improves blood circulation. The color may vary slightly as compared to the picture due to the product being made of genuine leather.

SLIP-ON SHOES-

These leather slippers for men are easy to slip into and out of with their closed-toe and open-back feature. They are super comfortable as the insole is made of leather and a foam bed is places inside the leather insole, making this indoor slipper an ideal choice.

STYLISH LOOK-

Kite design eyelets, contrast stitching and burnished leather upper give these men leather slippers an unmatched classic and elegant look. You can wear them at home, feel stress-free while working in an office, in the bedroom, while lounging in a resort, going out for a quick grocery shopping, or just for a small walk with your dog around the city.

ODOR-RESISTANT FOOT PAD-

These men's slippers are not only super comfortable but they are also odor-resistant. House slippers for men prevent sweat and therefore smell accumulation, keeping your feet feeling fresh all day long. Also, there are pores on the cushioned footbed which provide therapeutic benefits.

SLIP-RESISTANT OUTER SOLE-

The outer sole of men's house slipper is slip-resistant which means with mens slip-on slippers in your feet you can take steady, confident, and steadier steps even in slippery conditions and know that you won't slip or fall.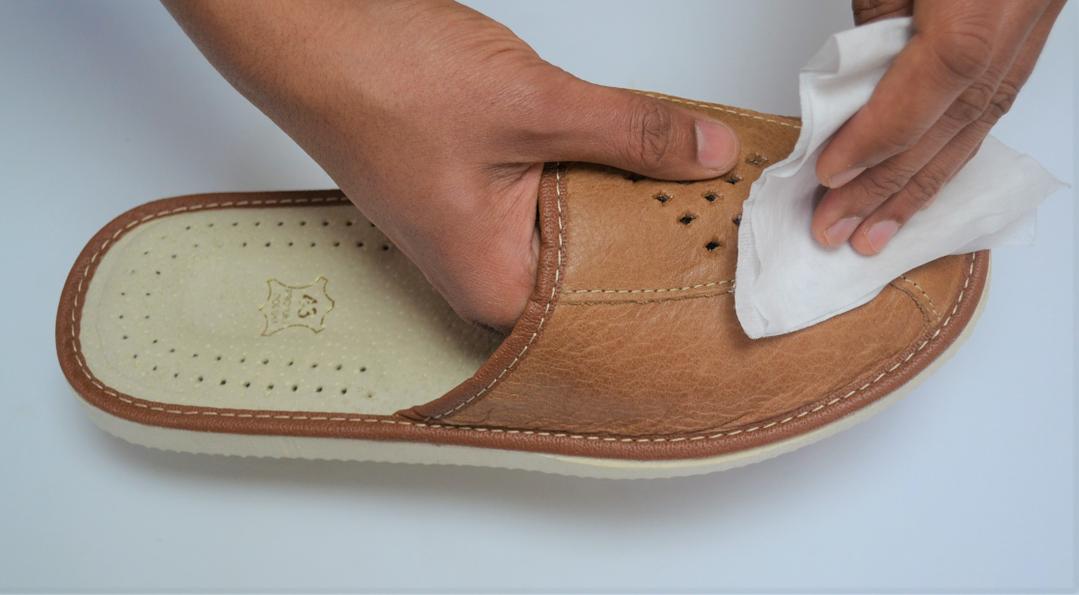 CLEANING SPECIFICATION:
Rubbing away any dirt, dust or grime with a soft dry cloth.
For thorough cleaning use a shoe polish brush to remove unwanted dirt of dust.
Use mild warm water and a soft sponge or cloth to clean the insole of the slippers.
Sprinkle Backing soda or foot powder to get rid of the stinky smell off your slippers.
Use of tea bag, small wooden pieces, or dry lemon or lime slices can be used to get a fresh smell on your cleaned slippers
Use conditioner or impregnation spay after your clean your slippers to prevent any dust or dirt settling on the upper leather.
WARRANTY POLICIES
Every slipper is made individually designed cut by hand and stitched by the machine manually so a lot of care is taken while manufacturing this leather house slipper for men. We provide a 1-month warranty for each pair of men's leather slippers if the stitching comes out or leather is naturally broken or crack is developed. Please note these are house slippers.
This warranty does not cover:

- Rough use of slippers or wearing them for outdoor use.
- Improper follow-up maintenance.
- Wearing it or getting exposed to water or any liquid material.
- Damage or failure due to accident, misuse, abuse, or neglect.
- Labor charges for part replacement or changeover.
Tops to short hard to keep on your feet
I am sorry for small slippers, however we have given size table on listing, also we have chat support for any size related confusion you can always chat before placing order,. Plus this are leather slippers so it will loosen up after some use :)
The BEST Slipper ever made
Love these shoes there are great I am always sold on this slipper.
Decent slipper, poor customer service.
If you have a narrow foot, these are good slippers. Unfortunately I do not and they are uncomfortable. Ordered two pair, tried to return one unopened pair for larger size, e-mail was answered quickly, was told I would be sent a return authorization for exchange…..that was 3 weeks ago, have not heard from since.
Comfortable, still not fitting well because it was deformed by package . It takes long time for delivery.
Over all I am satisfied good value.
Bought a second pair for another member of my family
Well made and well worth the money.
What are people saying about Reindeer Leather?
★ ★ ★ ★ ★
These are great.
"I'm really enjoying these. They are light and cool on the feet. They also have a bit of arch support, which is nice. Good leathers too. I'm calling these a win."
-I. Anderson

★ ★ ★ ★ ★
Great value for the money
Like that it's an open back slipper, leather of some type, and a slipper that you can easily slip into when you come in from the outside. For those who don't like wearing outside shoes indoors especially during COVID - 19 this is a good looking relatively comfortable slipper to have handy when you come in the door"
-Rudy

★ ★ ★ ★ ★
These are a favorite of mine.
"I put extra wear on last year's pair as (like so many) I was around the house more but these slippers are about the only ones I wear. I don't like flip-flops or fuzzy slippers, so these are great. They breathe, offer moderate support and good protection and I like the way they sort of mold themselves to my feet after a while. I can't tell whether I love putting on a brand new pair or an almost worn out pair more. I have now owned 3 pairs of these, each lasting an appropriate amount of time with almost every day wear to warrant their price tag."
-ZeeCee

★ ★ ★ ★ ★
Exactly What I Was Looking For.
"I wanted a good quality slipper that I could wear at home. These slippers fit the bill perfectly, better than perfect truth be told. The workmanship is great. People complain about lack of arch support, leather doesn't poof out enough for them, the sole is thin, etc. Okay, I am not discounting those beliefs.

There is little arch support, sometimes the leather sags, and the slippers do have somewhat thin soles. However, they are exactly as pictured and exactly what I wanted. In fact, I've offered to buy them, out of the blue, for my children and wife as gifts for no other reason than the fact that they bring a smile to my face when I put them on. I went shopping for Japanese styled house slippers and these are perfect!

Thank you."
-Lumiens The Mad.